Shopping Cart
Your Cart is Empty
There was an error with PayPal
Click here to try again
Thank you for your business!
You should be receiving an order confirmation from Paypal shortly.
Exit Shopping Cart
MARK YOUR CALENDARS!
September 17th  Saturday   10am - 2pm
FORT PAYNE BOOM DAYS
AUTHORS IN THE PARK
Come on by, come sit a while, come chat a while with some of our local talented authors.
Hope to see you there!
Hi Folks, just a note to let you all know how much fun I had yesterday at Boom Days, Fort Payne,AL. The Author's corner was well received and I got an opportunity to meet some very talented fellow authors! Yes! I actually dragged myself away from the woods, washed and brushed myself up and got out in the big wide world of events! I was drained by days end, but it had been well worth it! Of course, the dinosaur that I am, there are no photos. Sorry! I don't like cell phones so don't carry one. I'll try to scrounge up a photo.
Mark your calendars!
I will be in attendance at the annual BOOM DAYS CELEBRATION.
Where:  Downtown Fort Payne, AL.
When:    Saturday  September 19th
Time:      10am  onwards
Catch me at the AUTHOR'S CORNER
                Held in the Coal & Iron building.
Come say Hi not only to myself, but to other local authors. Show your support for our local talent.
Hello fellow bookworms. Just wanted to let you know that I had a successful book signing at The Bookshelf etc., my local book store this past saturday. Saw some repeat fans, sold a few books and generally had a good time despite the damn rain!
MARK YOUR CALENDARS!!
BOOK SIGNING;
 Saturday December 6th, 2014.
The Book Shelf Etc.
Fort Payne, AL.
10.30 am to 12 noon.
SEE YOU THERE!!!
Upcoming event:
Local Authors Expo & Book Fair.
Birmingham Public Library
2100 Park Place Birmingham, Al.
Saturday Feb 1st, 2014.
9.00am - 3.00pm.
Free to the public.
I'll be there will you?
Hi everyone, mark your calendars as I'll be in Mentone,AL during their Colorfest doing a book signing. I'll be at Kamamas coffee shop on Saturday Oct 19th between 10.30am and 1.30pm. There will be lots going on throughout Mentone that weekend. So come on up the mountain and join us. Hope to see you there!
Despite the monsoon-like weather that we experienced today at Boom Days in Ft.Payne,Al, the day turned out to be pretty good. I sold some books, made some good contacts, met some fellow authors, listened to some great live bands and enjoyed myself tremendously.
Look out for these two new up and coming authors:
Greg Starnes- writes ghost stories and is a civil war addict.
Chris St.Clair- writes about women and their life experiences.
Both authors have facebook pages, check them out. Like me they are self published so need all the help that they can get.
Well, must say that the book signing session at Rainsville Library was a disappointment. I did not feel welcome by the staff and they had done very little to prepare for it. That is all I'm saying on this one!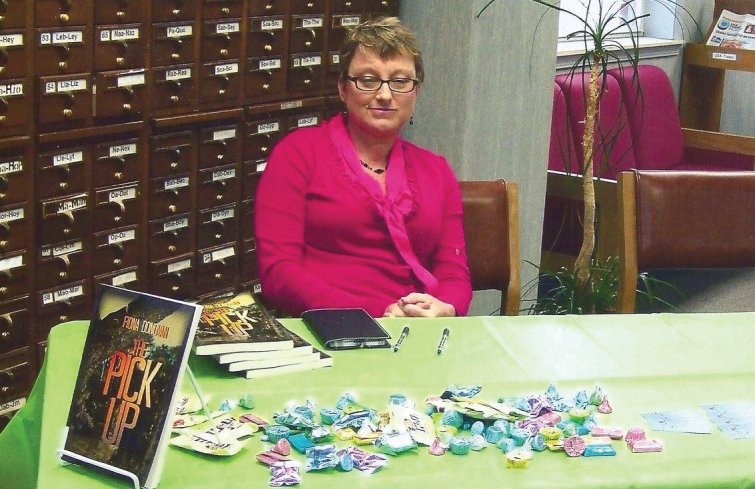 Well, things are beginning to pick up speed on the buzz of my book. Word is getting out, it's getting read and great feedback is coming in! Check out my 5 star reviews on amazon.com. Wow!
It's still hard to believe, but I'm kinda getting it now.
February 25, 2013
Here I am at my second book signing at the Dekalb County Library in Fort Payne, AL. This was a really good signing, interest is beginning to pick up now. The librarians tell me that all 6 copies of my book are constantly checked out! A big thank you to the wonderful ladies at the library.
I kinda look wore out don't I? I was, it's not easy being me you know!
/