Shopping Cart
Your Cart is Empty
There was an error with PayPal
Click here to try again
Thank you for your business!
You should be receiving an order confirmation from Paypal shortly.
Exit Shopping Cart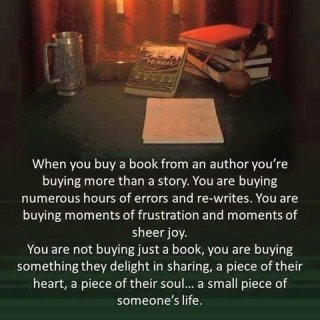 A book isn't just a book. Not to the author anyway. A great deal is put into writing that story; time, thought, research, skill. A story is not only written once, it is edited and re-written many times before it is available in the stores. Many decisions have to be made during the writing and development process, making it quite an involved and complicated process. It is a great accomplishment to write and have a book published. Something to be truly proud of.                                                                                                                                                          
I'd like to get your thoughts and ideas on reviews of my book. So far I've discovered that if you want your book reviewed, you have to pay. Now, to me that seems like bribary. In order to get some top reviews from magazines or book review companies such as Kirkus, you have to pay anywhere from $500 upwards. Does this seem right? Anyone have ideas or advice as to how I can get reviews for my book? If you've read my book, then please tell me about it, the good and the bad. Please write something in the review on this website.
I would really appreciate your feedback.
Hi everyone, I apologize for the lack of blog news, but my health took a nose dive causing me to be sick for 2 months and ending up in the hospital. But, I am getting back on my feet again and trying to start 2014 on a positave note. I won an award from my home town in recognition for the marketing I've done for my new 'Business' as author. Check out my new category Awards- to see the award.
Have to share with Y'all, I received my certificate of registaration for my book The Pick Up in the library of congress. It is awesome. How many people do you know who can claim that? I will frame it and put it on my mantel next to my book.
For those of you who are wondering, the new book title is:
John O'Bryan, The Beginning.
The first 40 chapters are completed!
TaTa for now, keep checking back with me.
Just had to let everyone know that I have just received a Publishers Weekly magazine in the mail. In the self published book section, my book The Pick Up has a listing, no review but a listing!!!!! Do you know how many thousands of books get sent to them every day. I am so excited that my book got a mention in the listings. This is a big deal for little loe me!
I have to share this with you. On monday 12th May I was invited to be a guest at a local radio station. WFPA 1400 AM, the Mike Wallace show. I was asked about The Pick Up, My history and future books. I was on the air for a total of 30 minutes! It was so much fun. I was really nervous at first, but then once I got talking Mike couldn't shut me up. I just want to say a big thank you to Mike and Tammy for inviting me. Check out their show and website.
I want to thank Mike at WFPA 1400 am, a local radio station talk show host for having me on his show on monday. It was great fun! I was nervous and wondered what I would say, but Mike made me feel at ease and before I knew it I had been on air for 15 minutes. Thank you again.
Well, I'm kind of embarassed and p.o'd at the same time. I just found out that the book trailer has not been available  on youtube through the link provided. I apologize for that. It is now available on you tube. Just put in The Pick Up by Fiona Donovan and it should come up. It's still awesome, so please go ahead and check it out and leave your comments.
/